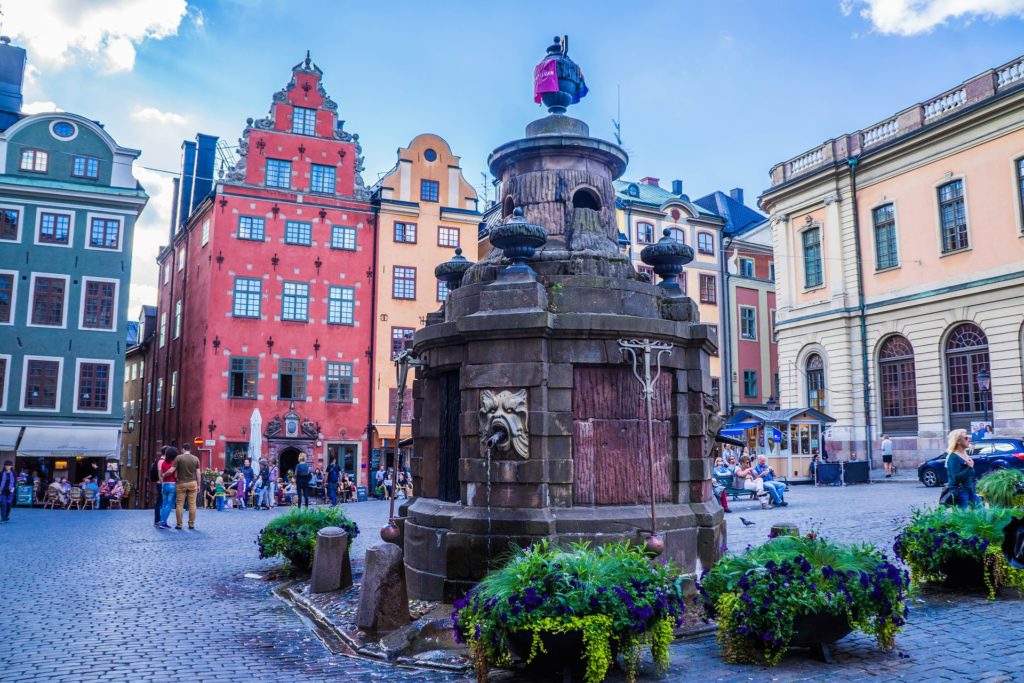 My first trip to Scandinavia almost didn't happen. Before the borders came down in Europe, I was headed to Denmark from Amsterdam. After a long train trip, I arrived at passport control and was summarily rejected from entering the country. Turns out, I had left my passport in Amsterdam. It was a nightmare to get a new passport at the American Embassy, but I was determined I would not leave the fjords without seeing them for myself.
So, I returned shortly after renewing my passport and spent a few days in Denmark first. If you've never been to the cathedral at Roskilde where the Danish kings are buried, or seen the Viking museum, well I would say it is a rite of passage for Viking enthusiasts. The Viking museum holds five ships that were sunk in a line along the Roskilde fjord in order to keep enemies from raiding the tender inland. Legend held that Queen Margaret I who ruled over the three kingdoms of Denmark, Norway, and Sweden had the ships sunk blocking passage to Roskilde. The ships were raised in the 1900's, and archeological diggings still take place around the cathedral, a treasure trove of details about the complicated history of the area.
When I arrived in Sweden (with my passport!), I was overloaded with history. Maybe that's why it seemed a more peaceful place to me. I went to the nature park where many historical huts and houses are collected for visitors and countrymen to walk through time in a peaceful, country setting. The workers were dressed in the colorful costumes one associates with Sweden, full of flowers, embroidery, linen and lace, etc. There was a wedding in an old chapel, and I thought it was a great idea to have one's wedding in the middle of the historical buildings of one's country. The wedding pictures would have so much added interest. I've seen weddings pictures being taken near the Forum in Rome, and the bay of Naples. Great!
I will digress just for a moment… I must say that as a young backpacker the beauty of the people made a great impression on me. Who gets to be blond, blue-eyed, and tall…. AND tan? Not me. Ok, everyone goes for different looks, but I had to just sit and watch the people in this country. It was an amazing sight.
Now I am reduced to enjoying loganberry cookies and Swedish meatballs from IKEA, but I will not forget my trip to Sweden as a young backpacker.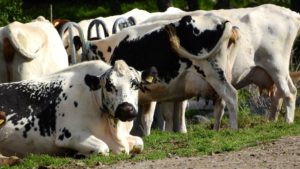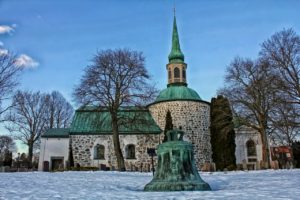 But wait! There is one more country in Scandinavia, and perhaps the most important one to me. Norway. I have Norwegian heritage, and I will have to say that Norway has some of the most incredible sites. There is a fantastically preserved Viking ship, and the Kon Tiki raft that Thor Heyerdahl used to cross the Pacific ocean. In Vigiland's park, the sculptures of Gustav Vigeland are jaw dropping. Then, you can hop on the train to Bergen for a "Norway in a Nutshell" view of the Fjords. Try some caviar at the fish market in Bergen, climb to the medieval Stave church, and enjoy the ancient forest. I have led two trips of students and colleagues back to Norway to see some of these incredible sites. To my students, perhaps starting the day off with a waffle bar breakfast complete with all the toppings was the best part. To me, it was just being in Norway…Scandinavia, for that matter because after all of the amazing sights I just listed perhaps the most amazing one was when I first stepped off the train in Copenhagen. I saw the people…tall and of a certain statue. Wow, I thought. These are my people! I looked just like them. That is an experience that Americans sometimes feel when they return to that ancient place from where their ancestors first emmigrated. It happened to me, and maybe it will happen to you someday.
We celebrate Sweden this month during our Dessert Club. You are welcome to come and get a taste of that old country, and maybe inspiration for your own journey back through time.