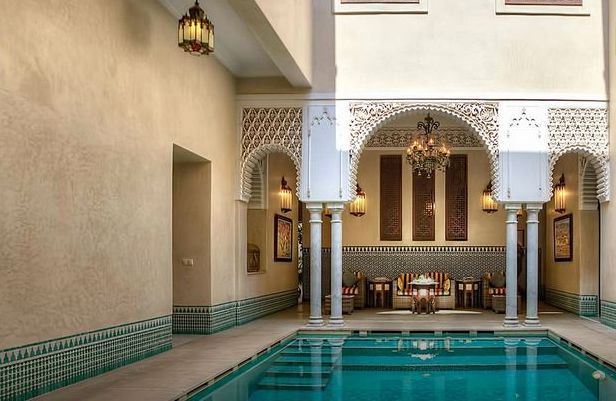 One of the most romantic bed and breakfast I have experienced is the Riad Kniza in Marrakesh, Morocco. Riads are the old mansions and palaces filled with the history of exotic Morocco. They are not like driving up to an old southern mansion, or cruising by a grande dame on the Venetian canal. Not at all. Our Riad was hidden down a small alley in old town Marrakesh, only distinguished by a small gold sign and a very old and solid wood and cast iron door.
But once inside that door, the magic carpet may as well have been waiting. We were whisked into a welcoming room where we were treated to tea and pastries as our luggage was taken to our suite of rooms. Every aspect of the cozy dining room was lush and dripping in luxury from the antique Persian rugs, heavy silk curtains, intricately detailed fireplaces, and velvet pillows.
Then, we were taken to our room. Wow. Just wow. Rose petals were strewn over the Persian carpets leading into an incredibly beautiful room separated into a lounge and sleeping area by Roman columns. There were lounge beds typical of old Mediterranean places, but here covered in a beautiful, patterned silk. A few steps further on was the silk-covered bed framed by velvet-fringed curtains. There was a cupola above the bed that was intricately detailed. The windows were wooden and opened onto the large main courtyard. The bathroom was all white marble with gold fixtures highlighted with deeply fragrant rose petals. Fresh flowers were tucked in the corners. An antique silver kettle of hot water awaited our desire for tea, and a three-tiered display of pastries were at hand.
It was the most beautiful presentation of a room I had ever experienced. It was an incredibly romantic room. Each morning we had our breakfast on the rooftop of the riad overlooking the city. In the courtyard we would retire for spa services. The personal attention was beyond anything I had ever experienced, and I truly felt I was living one of the 1001 Arabian nights.
When I bought Woodstock Inn Bed and Breakfast and decided to theme the rooms around European countries, I simply had to include a room based on my experience in Morocco. Of course, it is not a European country, but I have reached across the Straight of Gibraltar to highlight this most incredible art and architecture. When you arrive at Woodstock's Moroccan room, you will find a little photo album with beautiful photos of Riad Kniza. Enjoy!