How Woodstock Inn Bed and Breakfast became what it is today!
For over 100 years, the location of Woodstock Inn has figured into both local and national history, and has seen wagon trains, art studios, and adventurers thrive under its roof. What do wagon trains, the civil war, art design, quilts, and doll manufacturing have in common with Woodstock Inn? Read on and find out!
Woodstock Inn was first built as the residence of Morris Short and family in the 1890's. Called Old Westport Road at the time, this road most surely saw the wagon trains that left Independence with all of the excited faces of westward pioneers headed onto the Santa Fe, California, and Oregon Trails. Every September, Independence celebrates these pioneers with Santi-Cali-Gon Days, a weekend filled with country music, pioneer crafts, homemade foods and sarsaparilla root beer for over 200,000 people attending the festival.
The road name was changed to Lexington Avenue in the 1900's, perhaps a reference to the civil war history that also figures into the area. Less than a hundred yards from the Inn is a historical marker that designates one of the confederate lines, where the North defended the territory. Morris Short lived during the time of the civil war, and most surely the area saw activity since it is one of the highest points in the Kansas City area. In fact, the knoll just a few yards from the Woodstock Inn marks the Temple Lot, a place of much religious significance, and the highest point in Independence.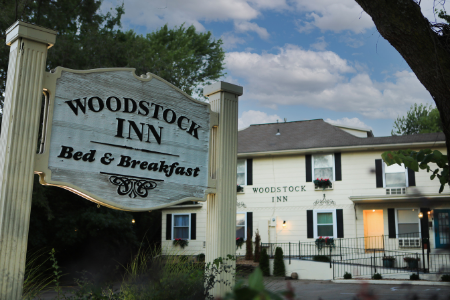 The most famous resident of what is now Woodstock Inn was Ruby McKim, born in 1891 to Morris and Viola Short. Ruby became interested in art early on, and attended the New York School of Fine Arts before returning to Independence, Missouri, and marrying Arthur McKim. She settled into home here with her husband and shortly thereafter began teaching art in the local schools. Her prolific career began here as a quilter and publisher. She published quilt patterns in the Kansas City Star, published the historically famous "101 Patchwork Patterns," and was finally inducted into the Quilter's Hall of Fame.
Ruby continued her prolific career in design, business and writing. With her husband, Ruby opened McKim Studios, a needlework supply and pattern business which eventually turned into the Kimport's Dolls business and residence. Vestiges of the studio and business can still be found in the attic and eaves of Woodstock Inn. Ruby also began a column in Better Homes and Gardens on "Adventures in Home Beautifying," in which she focused on a different room of the house every month.
In the 1980's the old McKim Studios became Woodstock Inn and was restructured as a bed and breakfast. In a certain way, the spirit of Ruby McKim was honored as each room was taken one by one, outfitted with ensuite bathrooms, and detailed for guests. At the same time, some additions were made to the core of the residence. Woodstock Inn changed hands a couple of times in the last 26 years since Ruby McKim's passing, but it is interesting to note that current owner Kim Morgan is an educator and publisher, as Ruby McKim once was. So it is with great pleasure that we welcome you to Woodstock Inn, and share the history and warmth that was and is part of the charm
Meet our InnKeeper, Debbie Gardner