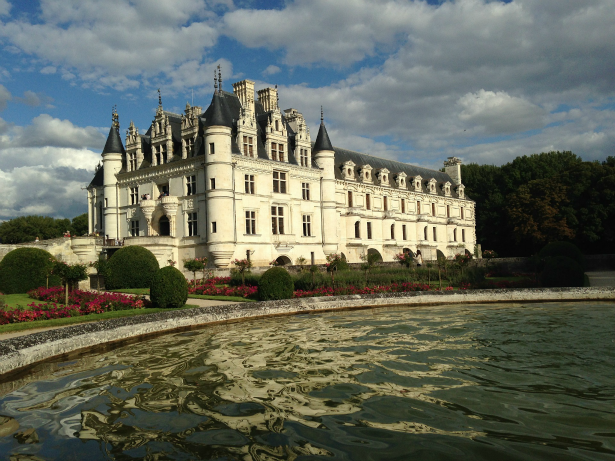 On one wall of our luxurious French Riviera Suite hangs an average-sized, but rather stunning tapestry of the French castle of Chenonceau spanning the river Cher. If you look behind the tapestry you will find the description of this castle, and you will have effectively turned the first page of a history so extraordinary that it would have to be a fairy tale…but it's not.
I have lived that story in a tour I organized a few years ago based on Ina Caro's book, The Road from the Past: Traveling Through History in France. Our arrival in the Loire Valley and breakfast the next morning could have been the introduction to a fairy tale in and of itself except that we were in cars and not on horses.
Our little group of ten flew into Paris on a Friday evening, rented our vans, and traveled south for the beginning of our castle tour in Chinon. We arrived very late at the Manoir de L'Abbaye in Seuilly. Thierry, our host met us outside of the gate and escorted us through the fragrant garden to our stone tower. The marble steps of the spiral staircase were deeply worn from centuries of use. Wooden doors opened onto our rooms, complete with original floors, massive fireplaces, and a medieval canopied bed. The window near the bed was open, and though we were very sleepy, what we saw was not a dream. Across the misty valley and punctuating the pitch black night was a castle lit up to perfection. The turrets and towers were straight out of a fairy tale. It looked as if it were floating in space. Princesses a thousand years ago would have looked at that same sight. We felt like royalty that night.
After a restful night's sleep, we woke and descended the tower for breakfast. The breakfast room was through a modern glass door at the bottom of the tower. There was a collective "wow," when we opened the door. The fireplace was lit and warmed the room against the misty morning, and in the center of the table was a medieval candelabra with several candles lit. It was the first time I had ever had breakfast by candlelight. Together with a big bowl of café au lait, croissants, farm fresh butter, and homemade jams…it created one of those magical moments that I will never forget, and that forms a page of my fairy tale life.
After our first night, we went on to see Chinon, Chenonceau and many other castles of the Loire Valley in France. Each one of them is different, with histories that are incredible, but true. The castles are like "a thousand jewels in a Renaissance necklace." It's truly extraordinary to see and experience places that heretofore had only ever been in the imagination. These are the kind of magical moments I want to facilitate for guests at Woodstock Inn, and also for people that go on my tours. Join us as we create these magical moments for our guests!
See more of this extraordinary trip at http://www.kcmorgan.net/tours/