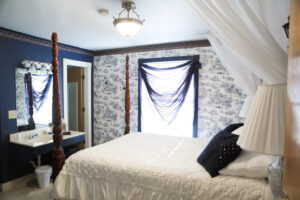 Room Rates
Room rates assume single or double occupancy
Included is morning juice and coffee or tea, a full breakfast and complimentary use of common areas at Woodstock Inn
Room rates are reviewed periodically and subject to change. Although every effort is made to keep all stated rates on the internet and in print accurate, stated rates in affect at time of booking will supersede any rates printed on the website, print material or other sources that are outdated or in error.
RESERVATIONS
Advance reservations are required and are secured with a credit card (MasterCard, Visa or American Express). Final payment is accepted with credit or debit card, cash, check, travelers checks, or gift certificates issued by Woodstock Inn Bed & Breakfast.
CANCELLATION POLICY
As a small property, cancellations effect us greatly. In the unfortunate event that you must change or cancel any part of your reservation, notice of 7 days or greater is required for a full refund. Guests will be responsible for all charges as originally booked if changes or cancellations are received less than seven days of the stated arrival. The cancellation policy for group events require a 30 day cancellation notice for a full refund.
CHECK-IN/CHECK-OUT TIMES

Check-in begins at 4:00pm – 6:00pm
Please notify us if you plan on arriving after 6:00pm
If you know that you will be arriving after 8:00 pm., please call the inn to make arrangements for a late check-in. (816.886.5656)
For arrivals before 4:00pm, advanced notification is required.
Check-out is by 11:00am. If you require a later check-out; please make arrangements in advance with our innkeeper. The inn has a small window of time between check-out and check-in time to prepare our inn for our new arrivals.
We greatly appreciate your respect for both our 11:00 am check out time and our 4:00pm check in time. We recognize travel schedules have variability and will gladly offer to store your luggage, allow you to park your car on premise or give you access to our common areas including powder room to facilitate this schedule.

SMOKING
Woodstock Inn is a bed and breakfast inn. There is no smoking allowed inside the buildings. Smoking is allowed outside at designated areas. The inn reserves the right to charge the credit card on file $250 fee to cover the cost of deep cleaning and/or replacing upholstered furniture, window treatments, rugs and bedding if it is determined that a guest has violated the inn's policy and smoked in any location inside the inn.
CHILDREN
Although guests with young children are welcome, Woodstock Inn caters primarily to couples, families with older children and individuals on business or looking for a respite from the hectic pace of today's world. Specific guestrooms are better suited for a 3rd person in a room. Woodstock Inn does not have high chairs, portable cribs or a regular children's menu. As the rates are based on single or double occupancy, there is a $25 fee per person per night for any additional person in any guestroom.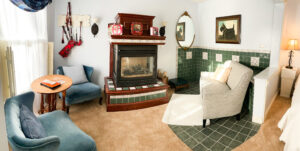 Pets
For the comfort of all of our guests, no pets are allowed.
Prevailing Lodging Tax
All reservations and add-ons are subject to the State of Missouri's prevailing lodging and sales tax requirements.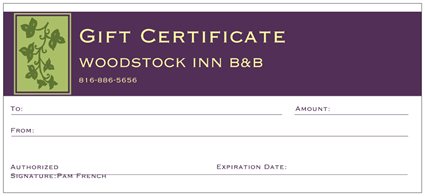 Gift Certificates
Gift certificates are available and are a much appreciated way of acquainting your guests with the B&B experience, while giving the gift of hospitality, comfort and relaxation.
FORM OF PURCHASE: Certificates may be purchased for a dollar amount or specific room by phone.
GIFT CERTIFICATES MAY BE:

Mailed to the purchaser,
Mailed to the recipient, or
Picked up by the purchaser in person at the Inn.

FORM OF PAYMENT: Certificates are charged to the purchaser's credit card at the time of order. Cash and checks are accepted for purchases made in person.  No refunds or exchanges are permitted.
DURATION: Gift certificates are valid for one year from date of purchase and are subject to availability.
REDEMPTION: The recipient makes a reservation directly with Woodstock Inn Bed & Breakfast and reserves the room and date of choice based on current availability.  Reservations using gift certificates are subject to the Inn's applicable reservation/cancellation policies.
All policies above are subject to change and in the case of discrepancies the policy in effect at the inn will prevail. Policies stated above were last reviewed 3/22/2022.