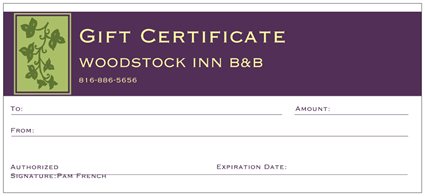 Give a Great Gift
Purchasing the perfect gift is TOUGH. But purchasing a gift certificate/card for a getaway to Woodstock Inn B&B is economical and more than welcome by the recipient!
With a gift certificate/card you can choose from:
💚 Regular rooms with ensuite bath which are perfect for one or a couple. Seclude yourself for 2 days and write that book chapter, resume', presentation, or webinar. Or just getaway from the kids!
Rates are $129 to $165 per night.
❤️ Spa rooms with spa tub are perfect for some pampering or that special anniversary. Add ons may include couple massage, chocolate covered strawberries, and roses!
Rates are $175 to $250 per night.
💜 Gifting a bed & breakfast gift certificate/card is something unexpected and quite unique.
🧡 Buying a gift certificate/card is a great way to have something to look forward to. The gift cards never expire.
💙 A gift certificate/card present is very economical, thoughtful, and an easy way to give something VERY special! Oh, and don't forget the breakfast, check-in cookies, and brew bar (coffee, tea, soda, bottled water)
We can send the gift certificate to you, the recipient, or have it available for pickup.
Call the Inn today at 816.886.5656 and get ready to plan for holiday gift giving!